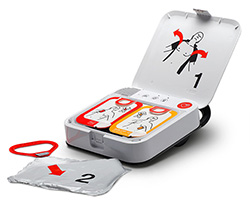 When someone suffers a sudden cardiac arrest (SCA) it can be daunting for those around them. Having an easy-to-use defibrillator can speed up the delivery of a shock, increases the chance of survival and enables the person performing CPR to do so effectively and with confidence. Physio Control Lifepak CR2 Defibrillator has the technology to do this.
Bold visual instructions and QUICK-STEP pads have been designed to cut the time required before a shock can be administered. Alongside this the CR2 defibrillator uses ClearVoice technology, which automatically adjusts the volume of the instructions according to the environment you are in, ensuring that you can always hear the guidance from the defibrillator. The unit gives clear audible coaching with a metronome to help you keep up the recommended pace for effective CPR. Physio Control have considered diverse work environments, too. The dual language capability will ensure that all staff can clearly understand the instructions given.
The child mode offered means that you don't need to worry about changing pads, saving valuable time in an emergency. At the touch of a button the Physio Control Lifepak CR2 will automatically reduce the shock level for use on a child under the age of 8 years with the same pads that you would use for an adult.
Physio Control's innovative Lifepak CR2 features CPR Insight™ technology that can analyse the patient's heart rhythm while CPR is being performed, meaning that the 'hands off' time is greatly reduced, helping to maintain the circulation of blood.
Unlike other defibrillators the CR2 also offers LIFELINKcentral, an AED Program Manager which monitors each device. Connected by Wi-Fi or via mobile network you can receive alerts about anything that could affect the readiness of your defibrillator, such as low battery warning or replacement of pads. You can also set up an alert to inform you 3, 6 or 9 months prior to your electrodes requiring replacement so you will never be without a defibrillator that is ready to be used in the event of an SCA.
Basic LIFELINKcentral AED Programme Manager access is included as standard with each LIFEPAK CR2 defibrillator at no extra cost. For an additional £1604.00 ex VAT for a 4 year licence you can upgrade to the 'Track Account' this will allow you to manage up to 50 units. Additional features include: A dedicated account support representative, post event reports and free premium software upgrades.
Visit our website to place an order or to find out more about the Physio Control Lifepak CR2. Alternatively, you can contact our friendly sales and support staff by calling 0800 612 6304 or sending an email to support@thedefibpad.co.uk